6 concrete steps to become a music producer
In this article I look at different aspects on how to become a music producer.
If you are looking for tactile advice instead of childish drawings on how-to sites, you are here at the right address.

1. Learn music production (duh)
Let's start with the obvious one: learn software to make music (DAW - Digital Audio Workstation) and learn the basics of music production.
I know, it`s easier said than done.


Nobody told me that music production is a skill that you have to work on for years to master, but it is.
Some tell you to learn an instrument like piano or guitar, but that's not true.

When you do know how to play an instrument, that have an advantage because you know music theory, but learning an instrument is totally optional for music production.

I suggest you get a hang of the basics of music production, see if you like it, before taking any further steps.
If you are serious and want to get a jumpstart, you could take a look at my music production course (click on the link for more info).
I have created the course with all the input from starting music producers in my support calls.
Once you know the basics and think about pursuing the job, shift your focus towards the other steps in this list, but in the meantime, keep producing to improve your skills.
Don't forget that you don't have to do everything yourself.
For example, if you are not good at mixing: a mixing engineer can help you.

The same for mastering and songwriting.




2. Make sure your socials are in order
The second one is also pretty obvious, but for a different goal than most people think.
The goal is to establish authority in the music production space.

It is a resume of what you have done to prove to potential business partners (label, manager, collaborating music producers etc) that you know what you are talking about.

A lot of upcoming music producers think that social media gets you discovered.

It might work that way, but for 99.9% of music producers it doesn't, be smarter than that.

With a large social media following you have more leverage in negotiations.
With a large following you are more likely to get booked DJ gigs when the venue knows that people show up when they hire you.


Building a strong social media profile takes a lot of work and time.
Start early, so you can harvest the fruits of you labor in a couple of years.

If you start when you actually need it, you are too late.

The most important socials are:
1. YouTube
2. Instagram

3. Linked In
4. Soundcloud
5. Twitter
6. Facebook




3. Network
Meet like minded people.

They can broaden your horizon and are more likely to make your career than social media.
Go to conferences, fairs, meet-ups, online forums, leave thoughtful comments on social media producer influencers etc.

4. Produce a lot of music
Learning music production takes time and a lot of songs.
You will learn a lot by producing a lot of tracks and try to finish them (even finishing bad tracks).
Publish your tracks on social media (especially Soundcloud).


5. A record deal won't save you
Hunting for a record label that makes your career is a strategy that worked a couple of year ago, but we are living in a different era.
The rise of online distribution platforms like Landr to get music on iTunes, Spotify and Beatport opened up doors for everyone, completely bypassing record labels.


Releasing with a record label only makes sense if they add incredible value like promotion you couldn't to by yourself.
But since most small independent record labels even do that, you are basically wasting money on them.

In this article I talk in more detail about: making money with music production.



6. build your platform
Build a platform around your music.
With music alone you can't earn a decent income anymore.
The most popular way of listening to music is Spotify.

But Spotify pays less that half a cent per play.
You may have to share that with a record label or songwriters.

It's everything else that makes you the money:

It's your YouTube channel
It's your DJ gigs
It's showing your face at an event
It's a speaking gig
It's ghost producing
It's teaching others music production.

Being a music producer is a versatile job, especially in the beginning.

Once you are in, then you can focus entirely on producing music … maybe.

If you like to know which equipment you need for music production, check out this article in which I explain the stuff you actually need and what is optional.

If you are serious about music production and want to take it to the next level,
download my free music production e-book.
Besides information about music production basics and computers for music production, the book gives also a unique perspective on the world of DJs and music producers.
Share this article
If you took value from this article, please share it on social media.







Website url:

Author
Dexxter Clark
Music Producer / YouTuber
Read more about the author
Read also ...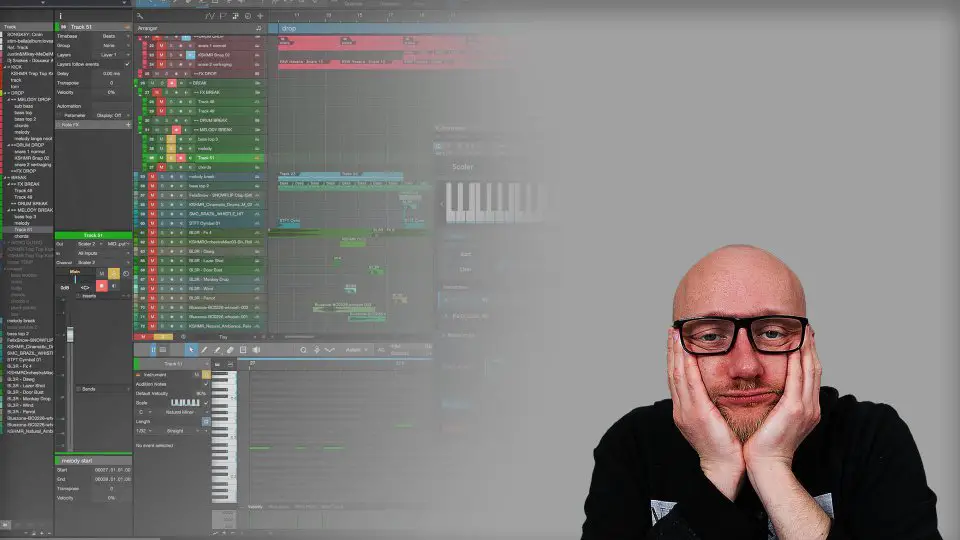 [VIDEO]
As a music producer you can apply certain track arrangement tricks to prevent your track from getting boring. This blog is especially useful if you are starting out with music production ...
Continue reading >>