How much RAM memory do you need for music production 2023
How much RAM do you need in 2023?
The simple answer is: 8 GB is enough. The real answer is: it depends.
What everybody else says: choose 16 GB, 32 GB, 64 GB. WHUT??
In this article I'll do the math and explain why everybody is wrong.


Where I'm coming from
I started programming computers when I was 10 years old.
When I studied computer programming for a degree in software engineering (which I have b.t.w.) I worked at the local computer store and built computers.
A lot of people like to say they are the expert, but do not really know what they are talking about.

The reason why so many people say 16 GB or 64 GB, is emotion and not logic.
Saying what everybody else is saying is the easiest and the safest (don't stick your head out above the cornfield). This short sighted vision is stupid, because it can be easily debunked by math.





Is 8 GB RAM enough?
8 GB can be enough, but ...
How much memory you need is entirely dependent on your situation.
If you are a famous producer with a lot of money, yes, spec your computer out to the max, just in case you might need it in the future.
But for the rest of us who are on a budget, just start with 8 GB.
Use the "left-over" money to buy a more powerful CPU instead of investing it in memory.
Here is the kicker that everybody seems to overlook: you can expand memory later, but you can't add (or upgrade) a processor later.
Well, technically you could, but by the time you want to upgrade, the CPU you need for your motherboard isn't available anymore.

The technology of CPU's is advancing much faster than memory.
Memory wise, you don't have to be future proof, in case of the processor, you have to be.
Down the line, memory becomes cheaper and cheaper.
Just be smart about it, expand memory later.
Investing a lot of memory when you buy a new computer is insanity when money plays a big role.

I have to make one side note here.
In some computers/laptops (like Mac computers for example), you can't add or exchange memory.
If you buy a new computer in those cases, spec the memory out to the max.




Memory management differs per DAW
The different DAWs handle memory differently when it comes to projects (with projects, I mean the songs).
The plugins will always take up the same amount of space in different DAWs, because a plugin is a standalone program that is called by a DAW.
Most DAWs allow switching between projects, the way they do it is different.

Apple Logic Pro X loads a project from the hard disk and puts it in memory to use it.
When you switch a project, it unloads all the data from memory and loads the new project from the hard disk and puts it into memory.
When you want to switch back to your original project, same procedure: unload from memory, load from hard disk and put it into memory.
Loading from hard disk (even a SSD) is slower than using memory, so switching between projects is incredibly slow in Logic, but memory efficient.

Presonus Studio One loads also a project in memory (that is just the way how computer programs work), but it never unloads a project from memory unless you explicitly tell it to.
This allows real time project switching, but is memory inefficient because every open project is loaded into memory.
So, it's safe to say that when you use Studio One and want to switch between projects you need more memory.

Memory usage in practice



To prove my 8 GB claim I looked at the memory usage of my own projects.
I have looked at five projects in Studio One and five in Logic Pro X.
The memory usage of the projects all ranges from 2 GB to a maximum 4 GB of memory.

You might draw the conclusion that you only need 4 GB of memory.
That assumption is wrong because you need memory for other programs and your operating system (Windows or MacOS).
So in my case I need 8 GB of memory, because the first step after 4 GB is 8 GB for memory modules.

I have to say, this situation changes however when you use a lot of sample based instruments.
I mean sample based opposed to synthesizer instruments.
In my tests I didn't use a lot of sample based instruments.
A synthesizer heavily relies on the CPU to make its sound, because it calculates the sound waves.
Samples are pre rendered and "only" have to be played, which is not CPU intensive.
But those samples need to be quickly available, because realtime loading from the hard disk is too slow, all samples are all loaded into the memory.

Let`s say that 88 notes for one instrument (a piano has 88 keys) are 1 MB each, that means you need 88 MB of memory.
If you use ten instruments (or ten voices) of 88 MB, that is 880 MB of memory, almost 1 GB if you don't render out your midi files.
This memory usage is on top of your typical memory usage.

Maybe in more extreme case, the samples are 2 MB each, you use twenty instruments and don't render out your midi files.
You almost use 4GB of extra memory on top of the 4GB you already used, then … and only then you use 8 GB.
This math is pretty consistent with the numbers that Native Instruments publishes on their website for the commonly used sample based plugin Komplete.
If you want to load 4 of those projects in Studio One (not Logic Pro X), you use 32GB of memory for your music production (and still need extra memory for your operating system and other programs).

You see that this is an extreme case, memory's worst case scenario?
I really need to pull some rabbits out of my hat to get to the numbers that everyone talks about.





What do DAW software makers say?
If you are in doubt, let's see what DAW software makers say on their website:

Image Line (FL Studio): "8 GB is probably enough. 16 GB is likely more than you need"
Presonus (Studio One): "4 GB RAM minimum (8 GB or more recommended)" Ableton (Live): "4 GB RAM (8 GB or more recommended)" Apple (Logic Pro X): "4GB of RAM"
Native Instruments (Komplete): "4 GB RAM (6 GB recommended)"



Computers for music production
If you are in the process of buying a new laptop or computer, you should check out my free e-book: the truth about DJ-ing and music production.
I dedicated a whole chapter with minimum specifications for budget, midrange and high end computers for music production.
The chapter also answers questions like: "a desktop or laptop?" and "what is the best CPU for music production?".
You can find it here


If you are serious about DJing and want to take it to the next level on the CDJ,
you should check out my CDJ 2000 video course.
Share this article
If you took value from this article, please share it on social media.







Website url:

Author
Dexxter Clark
Music Producer / YouTuber
Read more about the author
Read also ...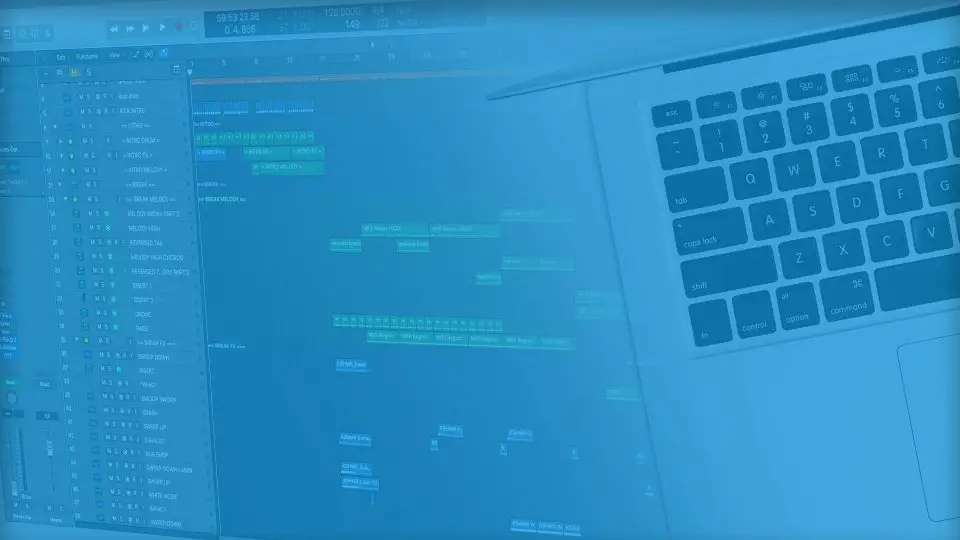 [VIDEO]
What is the best laptop for music production in 2023 if you buy a new one? 
A commonly asked question on my social media and especially YouTube. In short, the best computer for music ...
Continue reading >>