Recommended studio equipment
Some of the most common questions I get is, which tools and equipment I use or recommend.
I have spend a lot of time researching, testing and sending back equipment before they fit my needs and quality standards.
So I have compiled a list with tools for you that I will update regularly.
Sound cards
Apollo Twin
One of the more professional sound cards.
Used by many producers around me
Price on Amazon
Focusrite Scarlett 2i2 (3rd gen)
I personally own the 2nd gen and I'm really happy with it.
It's simply the best affordable sound card on the market
Price on Amazon
RME Babyface
Professional sound card with less latency due to RME's own USB drivers
Price on Amazon
Arturia AudioFuse
Professional little powerhouse with everyone's dreamfeatures, a lot of negative reviews on the internet about the support or Arturia
Price on Amazon
Audient ID14
Very good sound card with professional pre-amps. I owned one and was very happy with the sound quality
Price on Amazon
Monitor speakers
Tannoy Reveal 802
Affordable speaker.
Very precise in the high end, but lacks punch in the low end.
I own these speakers
Price on Amazon
Microphones
| | | |
| --- | --- | --- |
| Rode NT1 | I own this recording-studio-grade microphone, the sound quality is amazing! I really really really recommend this one | Price on Amazon |
DAWs
Studio One
I find it one of the most user friendly DAWs out there. A lot of processes are well thought out (except the sidechaining, which I can't get used to).
It's my DAW of choice.
Price on Amazon
Ableton Live
I like the plugins on the bottom and the overall editor of the software
Price on Amazon
Computers for music production: recommended specs
| | |
| --- | --- |
| CPU | Intel Core i7 latest generation (optimal price/performance ratio) |
| CPU cores | 4 |
| Memory | 8GB min. (recommended: 16GB) |
| Storage | 1 TB SSD |
| Graphics card / GPU | Onboard is enough |
| Screen | 15" min. (17" preferred) |
If you like advice on computers for music production, check out my article:
"
best computer for music production
".
Laptops for music production
budget:
HP 250 G5 15.6" HD Premium Business (Intel Core i5-6200U, 8GB DDR4 Memory, 500GB HDD), HDMI, Win 10 Pro
± $500, view latest price on Amazon
ASUS VivoBook, 15.6" Display, Intel i5 Quad Core (3.40GHz), 8GB DDR4 RAM, 1TB HD, HDMI, Fingerprint
± $500, view latest price on Amazon
mid-high range:
If you like more advice on laptops for music production specifically, check out my article:
"
best laptop for music production
".
Plugins (VSTs)
Equalizer: PRO-Q - Simply undisputed the best equalizer/ analyzer on the market. Everything is visual and has the best tools to shape your sound
Compressor: PRO-L - I like the visual style of the plugin
Compressor: PRO-C - I like the visual style of the plugin
Compressor: Glue - The glue compressor is one of the best sounding compressors on the market.
Reverb: Pro-R / Valhalla - Valhalla is probably more popular, Pro-R is more visual.
non-recommendations
Midi Keyboard: CME X-Keys - I have the CME X-Keys: broken within a year. Not recommended.
Monitor isolation: Auralex MoPad - the isolation impact of the risers is minimal, but better than nothing for my neighbours.
Headphones: Sennheiser HD238 - I have Sennheiser HD238 headphones that are not able to display bass frequencies at decent volume (+ broken within no time). Not recommended.
FREE e-book
Introduction to DJing and music production.
YouTube for producers
How to get more views, subscribers and make money on YouTube as a music producer?
CDJ 2000 Course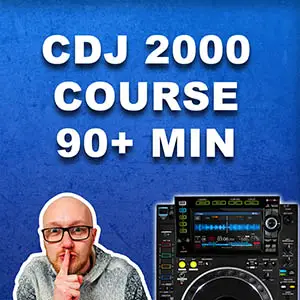 Complete CDJ 2000 training for the DJ that has no CDJ at home