Best graphics card for music production
In this article I look at the graphics card related to music production.

In short: the graphics card doesn't matter that much for music production.
A graphics card (often referred to as GPU) makes sure you have a picture on your screen.

The onboard graphics card of your motherboard is generally just fine.

But the kind of graphics card can influence your latency… is the consensus. True?

What brand should you pick?
NVIDIA or AMD?

Let`s talk about it in this article.

Do you need a graphics card (GPU) for music production?
Absolutely!
Without a graphics card there is no way to connect your monitor with your computer.
The graphics card is the part that takes care of generating an image for you to look at.
Without graphics card: no picture.




An onboard graphics card is just fine
With music production we don't do a lot of intensive graphics, so the kind of graphics card doesn't matter that much.
Use the graphics card on your motherboard, most motherboards have one integrated.
When you do want to play games, do video editing or 3d modelling, then it lacks performance and a heavy duty graphics card is advisable.
Luckily you can add a separate graphics card later on most computers.
Just buy a computer and use the onboard graphics card, if it turns out that it doesn't fulfil your 3d rendering needs, you can purchase one.

Adding a second screen for music production is very common to optimize your workflow.
However, if you want to connect to connect a second monitor you need to be a little bit more careful.
Almost all dedicated graphics cards have the option to add a second monitor, but not every motherboard supports that.

In that case you need to purchase a dedicated graphics card to support two (or more) monitors.


NVIDIA or AMD for music production
To be honest I had some troubles with big projects in Studio One with scrolling and zooming, but not on Logic Pro and not with Ableton Live.

Software maker Presonus blames the graphics card in my Mac, I blame Presonus.




I asked my friend who owns a computer store about AMD or NVIDIA.
He told me that there was no real difference in user experience and there were no real problems commonly associated with one brand or the other.

So I asked my subscribers on YouTube.

I asked which brand they have and if they experienced problems with it:


| | |
| --- | --- |
| AMD, no problems | 44% |
| AMD, with problems | 9% |
| NVIDIA, no problems | 44% |
| NVIDIA, with problems | 0% |

Will there be music producers out there that experience problems with AMD, probably.
Will there be music producers out there that experience problems with NVIDIA, probably.
But if one person has one issue with one brand and is vocal about it on a forum, doesn't mean that it is true for everyone in all circumstances.
The problem could be fixed in various ways: a Windows update, driver update, new product etc. etc.

So in conclusion, to say that one brand is generally better than the other would be a lie, because it depends on so many factors: the driver of your sound card, the hardware your sound card, the driver of you graphics card, your operating system, other programs running in the background etc. etc. etc.


CPU or GPU for music production
There is a lot of confusion about the terminology CPU vs. GPU.

A CPU is the processor in the computer, laptop, tablet, phone, game computer or television.

CPU stands for Central Processing Unit, the part of the computer that does the actual computation, since a computer is in essence nothing more than a big calculator.





The GPU refers to the graphics card.

GPU stands for Graphics Processing Unit.

Technically speaking the GPU is the graphics processor on the graphics card, but people use the terminology interchangeably.

The reason there is only one letter difference between the two (G or C) is because they are both processors, but one is more optimized for graphics (GPU) while the CPU is more targeted towards general computing tasks.


So, the question: "CPU or GPU for music production" is irrelevant, because it's the wrong question.

You need both to make music.

But the CPU is much more important for speed of the actual music production process, because we don't have to do heavy graphics stuff like 3d modelling or playing games.
On top of that, you can add or exchange a graphics card in most computers (not Apple) and you can't do that easily with a processor.

Invest in a powerful processor instead of a powerful graphics card for music production.

Best computer components for music production
If you like to know more about computers for music production, I recommend my following articles:


If you are serious about music production and want to take it to the next level,
download my free music production e-book.
Besides information about music production basics and computers for music production, the book gives also a unique perspective on the world of DJs and music producers.
Share this article
If you took value from this article, please share it on social media.







Website url:

Author
Dexxter Clark
Music Producer / YouTuber
Read more about the author
Read also ...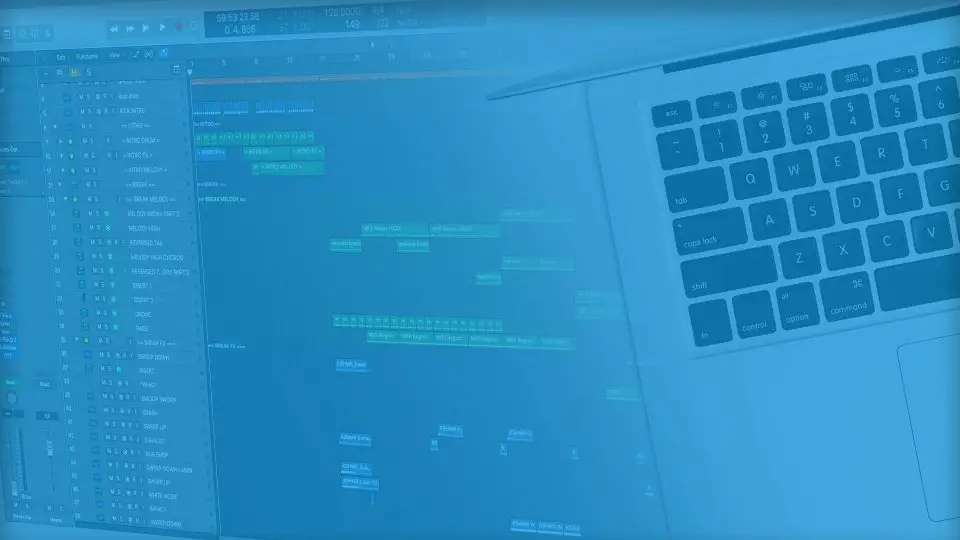 [VIDEO]
What is the best laptop for music production in 2022 if you buy a new one? 
A commonly asked question on my social media and especially YouTube. In short, the best computer for music ...
Continue reading >>