How to promote yourself as a DJ Music Producer online for free

In this article I'll look at some online platforms to promote yourself as music producer and DJ for free.

I start with the obvious ones and end with the ones that you probably might not have thought of to apply them in a certain way …

Bear in mind: "free" means: it takes some elbow grease.
If you are looking for a get rich quick scam shortcuts, you are here in the wrong place.


1. Facebook, Instagram & Twitter
Promoting yourself as DJ and music producer via social media is a must nowadays.

When you have a big following on social media, you have more leverage in negotiations.

If you can bring a loyal following to a nightclub by announcing it on social media, the venue is more likely to hire you when the venue knows upfront that they sell more tickets when they hire you.

When you want to get signed by a record label they also look at the value you bring to the table.

When you have a big social media circle, you've upgraded your value. 
You will have more room to negotiate a better deal.

As a producer you can post your songs on your social media, however a platform like Soundcloud is more targeted towards music and therefore more effective.



Posting your DJ mixes on social media is a no-go.

You can't use commercial music on social media without having the proper licenses.

All social media will block commercial music by default.

Of the big three (Facebook, Instagram and Twitter): Instagram and Twitter are probably the most lucrative.
The business accounts of Facebook and Instagram work according to the pay-to-play principle, if you want eyes on your content, you have to pay for it.

In other words, they won't suggest your content to interested users, unless you pay for it.


2. Soundcloud
Soundcloud is a good platform to promote your music and I would encourage you to do so.

There are rumours about the poor sustainability of the platform.

Also, more and more producers left the platform over the last years.

Soundcloud made some changes like adding commercials and subscriptions that not everyone can appreciate.
For the time that they are around, use it.

Uploading your DJ mixes to Soundcloud is not allowed, due to the commercial nature of the tracks you used.
If you want to upload your DJ mixes, use Mixcloud.

3. Mixcloud
In comparison to Soundcloud the roles about what is allowed and not, are completely reversed.
As a music producer, you are not allowed to post your own music.
Mixcloud is a platform targeted towards DJ mixes only.

All social media will block commercial music, but Mixcloud won't, because they acquired the proper licenses for you!
Why other social media couldn't do that, is beyond my comprehension.
It probably comes down to money, as always.




4. Don't use a download gate
A download gate is a web page that allows you to download a song if you follow the producer on Facebook, leave a like or comment Soundcloud.

There is one big problem with this approach.

Followers are only useful when they consume your content.
You force a non-fan to follow you with a download gate: it will hurt your growth in the future.

I will explain in detail in my article about download gates why a Download Gate is the most stupid thing you can do for your social media growth, because you are not thinking 2 steps ahead.

Just don't use a download gate.

I wanted to mention it anyway because it`s one stubborn myth that a lot of producer believe.

5. Mailing list
A mailing list is incredibly powerful to stay in touch with your fans.
You can share your tour schedule or tell your fans about your new collaboration or the new song that hits Spotify next week.

Getting people on that list can be difficult.
This is were social media comes in.
A mailing list is a perfect addition to social media.

You don't own the social media platform, but you do own your mailing list.
If something were to happen to your social media account your email list is your backup.




6. Website
Why everyone overlooks a website is beyond me.
Every other platform has a the downside of having to be active all the time.

With a website you don't have to.
It's recommended but you don't have to.

I'm not talking about a website with a photo, your socials and contact me.
That's not a website in my book.

I'm talking about providing some actual value to your fans:

If you have a youtube channel, post all your videos.
If you produce music, all your music should be on the site with the ability to buy them within three clicks. Make a page per track and tell a little story about the track: What did you do? what was the goal of the track, how long did it take?
This makes the track more personal than only a "cold" download. Fans love the know the background of you and your track
Have a Spotify integration with all your tracks
A schedule your public appearances
You can sell t-shirts in your online webshop
Photos of your gigs and/or your fans
Of course your rider and press pack should be on there
This website could be a simple free Wordpress site.

Nowadays you pay only 50 bucks a year for hosting.

I would say it's a very good Return on Investment.

7. YouTube



YouTube is probably the most powerful of all tools mentioned in this chapter to promote yourself as a music producer and DJ.
YouTube is the only social media platform where your content lives "forever".

Your Facebook or Instagram post today is old tomorrow.
A video from two years ago can still be relevant today.


As a DJ you can share all your tours around the world and a music producer can share explain his process of making songs.
Behind the scenes content is appreciated by fans, because it revolves around exclusivity.

There are so many incredible opportunities and possibilities with youtube.
Because the space becomes more crowded, you shouldn't take to long to hop on the YouTube train.
If you aren't doing it already, do it now.



If you want to jumpstart your YouTube career, check out my book: "What big tubers don't tell you" (click on the link for more info). 

It tells you everything about how grow a youtube channel with an additional addendum for DJ's and producers.

If you are serious about DJing and want to take it to the next level on the CDJ,
you should check out my CDJ 2000 video course.
Share this article
If you took value from this article, please share it on social media.







Website url:

Author
Dexxter Clark
Music Producer / YouTuber
Read more about the author
Read also ...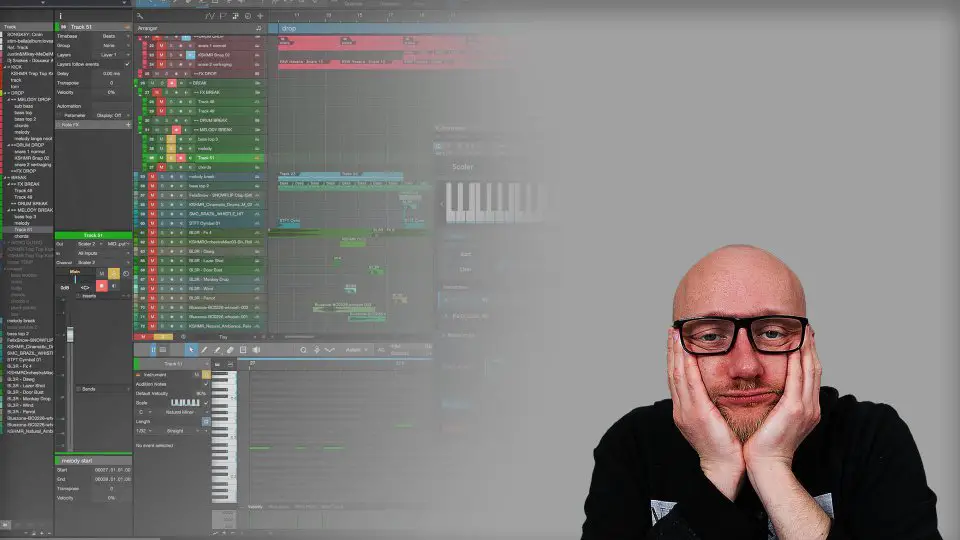 [VIDEO]
As a music producer you can apply certain track arrangement tricks to prevent your track from getting boring. This blog is especially useful if you are starting out with music production ...
Continue reading >>