Ohm Studio Review: Best free DAW for music production?
In this blogpost, I`m taking a look at the free DAW: BandLab.
How suitable is Ohm Studio to start producing music, or even for the more advanced music producer?

Ohm studio is free for mac and windows, but this free DAW has severe limitations. For example, you need to have a working internet connection, although the software is installed locally on your own computer.
No internet connection? Bad luck, you can't start the software!
Why they choose this approach (from a software developers perspective), I really can`t say.
You also forced to save in the cloud (aka on someone else`s computer), and on top of that can only save up 10 project in the free version.
And if you want to record in 24 bit and export to WAVE, you need the paid version: Ohm studio Pro.
Because of the limitations, this will be a very short post about Ohm Studio.
After all, it`s not a free daw for a music producer.




Things work a bit differently from what you might expect in Ohm Studio.
Recording for example: you have to arm the track, you have to arm the project and then press play.
With Tab you switch between the editing mode and arrange mode.
In the edit mode you have the piano roll on the timeline itself.
By the way, dragging and dropping a plugin on a track won't work, which I can`t wrap my head around.
The mixer is on the bottom, but you can also switch to the modular views of the tracks.
The modular views look cool, but you`ll quickly loose overview with just a couple of tracks.
So, they are not very usable.

The application is responsive, has no track limitations and you can use 3rd party plugins!
Well, you are obligated use 3rd party plugins, because there are no stock instrument plugins in the software.
A sampler for example would have been nice.
By the way, side chaining is possible in Ohm Studio if you are wondering.

If you are serious about music production and want to take it to the next level,
download my free music production e-book.
Besides information about music production basics and computers for music production, the book gives also a unique perspective on the world of DJs and music producers.
Share this article
If you took value from this article, please share it on social media.







Website url:

Author
Dexxter Clark
Music Producer / YouTuber
Read more about the author
Read also ...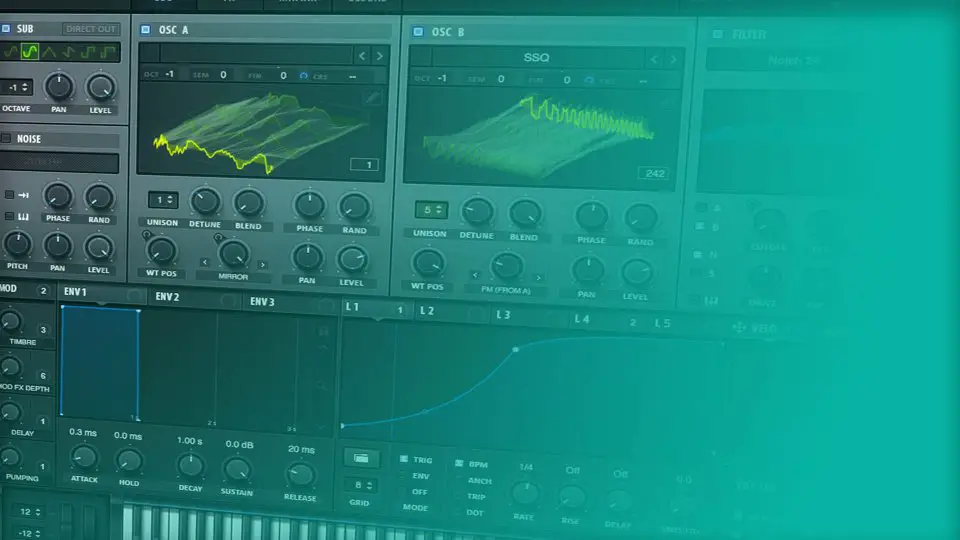 In this blog post I'll take a look at plugins for the beginning music producer. It can be overwhelming for a beginner music producer. Because there are a lot of plugins (and types of plugins) ...
Continue reading >>