Best free DAW 2023 - definitive guide: 18 reviews!
Looking for the best free daw software for music production in 2023?
Maybe you are new to music production and don`t want to pay hundreds of dollars on expensive DAW software.
Well, you are at the right address.
In this blogpost I take a look at 18 free DAWs for music production in 2023.
I have spend days registering, being spammed, downloading, installing, learnings the basics of 15 free DAWs and test every one of them for you, so you don't have to.
Online free DAW
Nowadays is possible to produce music inside your internet browser.
There are downsides to this method, you need a stable internet connection with a lot of bandwidth.
So producing on the road (or plane) is probably out of the question.
The software runs on someone elses computer (they call it: in-the-cloud).
If the companies go bankrupt, or they decide to charge you a lot of money tomorrow, they can.

Also, you can't use your own plugins.
That means that you are bound to whatever they provide.
also the system resources it takes, and no way to change the sample rate on your sound card for example.




Audiotool
Audiotool crashed within the first 5 minutes, later it crashed again, I disabled all the browser plugins (as Audio Tool suggested), but it crashed and crashed again.
So eventually I gave up.

From what I could see is that this free DAW is really resource intensive.
I couldn't run it properly on my computer (it`s a couple of years old).
Cracks and pops galore!

The software is node based: you connect plugins via wires.
So you have to wire the sampler to a mixer, and then connect it to the master chain in order to get your sound.

The plugin workspace is in the middle and the tracks are on the bottom.
I noticed that you a are zooming in and out of the plugin workspace a lot.
And the workspace gets cluttered quickly with a couple of tracks.

I could not find how to save, bounce or export your file to your hard disk.
I could not find how to configure your sound card change bit rates or inputs.
i could not find how to use 3rd party plugins, but there are synthesizers and samplers with step sequencers in the software, but regretfully I couldn`t try them out.
If Audiotool is not crashing, it seems to be okay, but it's pretty limited and won`t satisfy your needs as a professional.

BandLab
The second free DAW Bandlab is also a internet browser DAW, that only works in chrome.
But it also works on your phone!
Bandlab is a much more straight forward DAW than Audio Tool.

You can drag an drop samples from your computer straight into the timeline.
And you can record straight from your sound card.

It lacks a sample browser and it lacks support third part plugins, and with the limited amount of things you can dial in on the stock synthesizers, you are definitely lacking features.
I'm also missing a proper mixer.




Bandlab DAW is user friendly and I can immediately understand how things work.
You can store unlimited projects, unlimited collaborations, add there are royalty free loops and stock effect plugins in the software.

I think there is a big potential in this piece of software, but it`s not matured yet.
It`s so basic that, maybe it's pretty good for beginners. But that`s also the downside, you'll be missing features for music production in no time.

Offline free DAW
pro tools
before we go any further I want to mention pro tools first, first.
Pro tools is the DAW that is used in professional recording studios.
There is a free version called ProTools first.

With only 16 tracks, no 3rd party plugin support and with only 3 projects you can save, it's more a trial version than a free daw.
I don't think that pro tools is particularly good for beginners even the paid version, but I wanted to be in here because it's industry standard.

Ohm Studio
Ohm Studio is free for mac and windows, but it has some severe limitations.
For example, you need to have a working internet connection, although the software is installed on your computer.
No internet connection? You can't start the software!
You also have to save in-the-cloud and you can only save a maximum 10 projects for free.
And if you want to record in 24 bit and export to WAVE you need Ohm studio Pro.



Ohm Studio is responsive, has no track limitations AND you can use 3rd party plugins.
Well, you MUST use 3rd party plugins, because there are no stock instruments in the software.
Soundbridge
Soundbridge is a free DAW for mac and windows.
Well, free? Soundbridge is free if you donate, as a nag screen carefully explains.

The Soundbridge DAW is pretty straight forward, and I think you'll pick up very quickly.
The software is responsive and you can change bitrates and soundcard inputs, although it's very basic.

Audio stretching and pitch shifting is very easy in the edit window, if Soundbridge doesn't crash.
And fading in and out points of a sample is pretty easy too.

You have an unlimited number of tracks, and you can use your own plugins.
There are also stock effect plugins in the daw, but I couldn't find any instrument plugins.

All and all, I think this DAW is basic but pretty complete and has enough basic features to get you started.
Also for the more advanced producer, definitely check this one out.




Ardour
I saw videos in Youtube that say that Ardour is free, but it's not, judging by their website.
It may be cheap, but not free, so skipping to the next one.
T7
T7 by Traction is free, but of course they like you to upgrade to their paid DAW Waveform for 70 dollars.
T7 is available for mac, windows and Linux.
You are greeted with a nag screen, but if you click unlock and enter your user credentials you can continue.

It's worth mentioning that the DAW makes no distinction between audio and midi tracks.
There are no limitations in the number of tracks in T7 and yes you can use 3rd party plugins.
You can even add a video for scoring film music.

There are a couple of stock plugins in the software, like a sampler and a couple of effects plugins like a compressor.
The software sometimes doesn't respond to mouse clicks, and sometimes a right click on a plugin opens a menu and sometimes the plugin.
And I had it crash on me once by adding a plugin.

Concluding, it's functional, it's complete and it's free.
But It doesn't suit my idea of a DAW very well and has some user interface issues.

Garageband
The next free DAW I want to mention is garageband.
You can download Garageband from the App store if you have and Apple computer.

The application has a number of limitations, besides that it is only available on mac.
The first one limitation is the maximum of 32 tracks.
Besides that, you have a limitation of ONLY 4 effect plugins per track.
32 tracks is workable if you use the tracks wisely.
Also the 4 effect plugins are workable, but doesn't give you a lot of wiggle room.

You can get pretty far with Garageband as a free DAW, but there will come a time that you need to upgrade to Logic.
The upgrade to Logic is €200,- for a fully functional professional DAW and it can read your Garageband files.
Definitely check it out if you own a Mac.
By the way, there is even a Garageband app for iPhone and iPad.




Cakewalk
Cakewalk by Bandlab was previously known as Sonar.
Bandlab (the new owner), makes the previously discussed online free DAW: Bandlab.
Because it's windows application I can't test it for you, regretfully.
Judging by the scarce info on the website is, that is completely free without any limitation on tracks or whatever.
And I saw it supports VST plugins.

I guess you have to download it to figure out what is does and doesn't do.
Studio One Prime
The next free DAW that I want to take a look at, is Studio One prime.
Studio one prime is a stripped down version of the paid version Studio One.
Since I own a license studio one I was a bit hesitant to install the prime version because it may interfere with my license.

The payed version of Studio One is my preferred DAW of choice.
And out of familiarity for me it's really easy to say that it is therefore the right choice.
But I'm not going to do that, because the Prime version has some major downsides.
The first one is obviously the lack of 3rd party plugin support and you are stuck with the stock plugins.
The stock plugins are by no means bad, but the only instrument plugin is presence, which is limited.

But with no samplers included, no proper compressor and no way to add those yourself, the DAW is pretty handicapped.
The other obvious limitation is the limited amount of busses, but that is maybe less of an issue when you are starting out.
To get you started there are loops and sounds bundled with Studio One Prime.

What I like about Studio One is that you search for plugins and drag and drop them on the timeline.
There is no track limit or storage limits in the free version.

If you want to upgrade:
Studio One Artist is €100,- (which has more features than the free version) and the full version Studio One Pro is €400,-.



LMMS
LMMS or Linux Multi Media Studio is available for Linux, Windows and Mac.
I don`t find it particularly user friendly, I needed at least 6 or 7 tutorials to get me started.

LMMS can export WAV and Ogg lossless file formats and it can export stems, so multiple tracks at once.
WAVE, AIF and FLAC for importing is support,but MP3 regretfully not.

The software supports partial VST plugin support under Windows and supports the Linux Audio Developers Simple Plugin Api, or LADSPA for short.
That results in a slew of really simple plugins in the software with limited functionality.
Since using your own VSTs or AU`s won't work, you have to rely on what they provide for you.

The DAW is definitely one of the more extensive DAWs in this video, but it lacks recording features.
You can get around that by using Audacity for example, but that makes LMMS not a one stop DAW.

LMMS has no limitations when it comes to number of tracks.
But the lack of support for VST plugins for mac and I the fact that couldn`t get my midi keyboard to work, is a deal breaker for me.
So I don`t think that it`s the best free DAW if you are a beginner.

QTractor
For the Linux enthousiasts out there, you can take a look at Qtractor.
I have no usable linux workstation to test it, so I have to go by the tutorials and screenshots on the internet.



Qtractor has recording capabilities (in contrast to LMMS), even multi take recording.
The DAW has unlimited tracks, unlimited busses, unlimited number of plugins per track, piano roll, support for midi keyboards and automation possibilities.
There is VST instrument support in QTractor, but no support VST effect plugins.
It reads mp3s, and supports OGG, WAVE, FLAC and AIFF for reading and saving.
What I get from the online tutorials and screenshots, it has also a multi window approach.

Rosegarden
Another free "DAW" for linux is Rosegarden.
Rosegarden is mainly a Midi sequencer, meaning that is was first built as a program to make music with notes and sheet music.
Later they added audio support, but I suspect the support to be very minimal.
Although it supports audio routing and recording audio.

Rosegarden only supports some typical linux plugins.
But it doesn`t limit you in number of tracks.
It does limit you to only 5 plugins per track. In most cases that`s enough.
Audacity
A lot of people seem to think that tools like Audacity or Audition are DAWs, but those are multi track audio editors, not a DAW.
In Audacity you can record your voice or a real life instrument and apply effects with VST and AU plugins.
But you can not instantiate a VST instrument like Serum, change notes with a piano roll or connecting a midi keyboard and Audacity has no knowledge of BPM.
Try to put a sample on the offbeat of a 106 bpm song, good luck!
You can import a midi file, but you can not play it.
Audacity is fine for recording a voice-over or a podcast, but not for a music producer.




Reaper DAW
You could consider the endless `trial` of Reaper as free.
When I set my computers system clock to 2037, Reaper indeed still seems to work.
It's not technically free, but you can use it for free, when you click away the nag screen.
By the way, the paid version is only 60,- dollar or the 225 dollars, depending on your income.

In reaper there is no distinction between track types.
So a midi track, an audio track, a video track and a bus track are all the same thing.

Reaper could be a bit intimidating when you are starting out with music production, because of all the huge menus and the options on the screen.
But a lot of options a pretty self explanatory when you know the basics of a DAW.

Exporting can be done in a slew of formats: WAVE, AIFF, MP3 and OGG Vorbis.
I'm surprised by the amount of plugin standards they support: VST Audio Units and even ARA.

With no apparent limitations Reaper is a good DAW to grow with.
Reaper is solid DAW that is feature rich and definitely competes with the big professional DAWs.

Podium
Podium is a DAW for Windows that is based on a subscription model of 35 dollars a year with a one time fee of 50 dollar.
But there is a free version of Podium, but there are a couple of caveats.
First of all, the free version is not updated since 2014.
Second, there is no 64 bit support in the free version and you can only use one processor core.
In other words, the free version doesn't take maximum advantage of your computers hardware and the payed version does.

Regretfully it has no Mac version, so I can't test it for you.
It supports VST plugins, Midi and audio recording, multiple computer monitors and automation.
The stock plugins in the software are: an equalizer, reverb and pitch plugin.
If you took notes, those are only effect plugins, no instrument plugins, so you need to have 3rd party VST instruments.



Stagelight
Stagelight by Open Labs is a daw for windows and mac.
Stagelight comes in 3 flavors: the free daw, the platform unlock and the ultimate unlock version, which are respectively 50 or 150 dollars.
There are iPhone and iPad versions of the software available.

The free version can handle only 2 effect plugins in stead of 8 in the paid version.
You can't export stems, and there is no VST support in the free version.
There are basic versions of their instrument plugins in the software, so you are bound to those to make your music with.
There is also a equalizer, compressor and delay stock plugin in Stagelight.
But you are definitely missing a limiter and reverb plugin.

I couldn't figure out how to side chain, and judging by the forum, it isn't possible at all.
This made me quit further exploration of the software.
If you can't even do that, it isn't worth my time, or yours for that matter.

The daw is pretty basic, which may be good for a beginner, but if you want to grow with a piece of software, take a look at something else like Reaper.
And on top of that, the free version is so handicapped, so it`s hardly usable.




Free DAW conclusion
I think that the browser DAWs are good to start with as a beginner music producer, but they are so basic that you can't grow with them if you advance.
Of the free browser DAWS, Bandlab stood out for me.

From the offline DAWs, I like Soundbridge a lot, but my overall winner is definitely Reaper.

You may have noticed there are major downsides to pretty much every free DAW.
And you don`t have that problem with paid DAWs.

For more information about DAW, check out my free e-book on this website.

If you are serious about DJing and want to take it to the next level on the CDJ,
you should check out my CDJ 2000 video course.
Share this article
If you took value from this article, please share it on social media.







Website url:

Author
Dexxter Clark
Music Producer / YouTuber
Read more about the author
Read also ...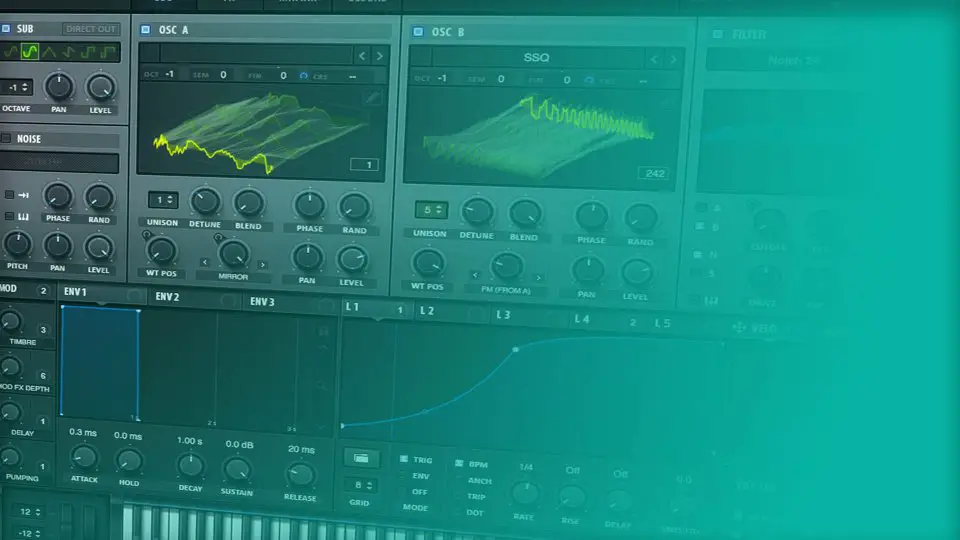 In this blog post I'll take a look at plugins for the beginning music producer. It can be overwhelming for a beginner music producer. Because there are a lot of plugins (and types of plugins) ...
Continue reading >>