Reaper DAW review - Best free DAW 2023?
In this blog: a look at the daw: Reaper.
Reaper is available for Windows and Mac.
Is it a suitable free DAW for the beginner?
How about the more advanced music producer?

Free daw?
Someone suggested the "endless trial" of Reaper as a free DAW to me.
"What do mean by endless trial", because on their website it says that it is a 60 day trial.
Well, technically it's not free, but when you click the nag screen away, you can use it without limitations.

It tried to replicate what happens after 60 days in 2037 by changing the system clock on my Mac.
And indeed, it's also usable in 2037 with a 6403 days trial.
But of course they want you to buy the 60,- dollar version or rather the 225 dollar one (depending on your income).
For the sake of exploring a free DAW, let`s say: it`s a free DAW.



Reaper User Interface
The tracks are in the middle, the mixer is on the bottom of the screen and the transport controls are in the middle, just above the mixer.
The plugins are added in separate windows.
And the sample browser (called media explorer) is a little bit hidden, but it's there.
There is a piano roll in Reaper, but its in a separate screen with a weird scroll mechanic:
Up and down scolling zooms in and out, scrolling over the on-screen-music-keyboard actually scrolls the screen.
features
In reaper there is no distinction between track types.
So a midi track, an audio track, a video track and a bus track are all the same thing.

I have to say I'm surprised by the amount of features and flexibility that reaper offers.
Although they have gone a tad overboard with all the icon-less menus and options.
This is pretty intimidating for a new user, but a lot of options a pretty self explanatory when you know the basics of a DAW.
Nevertheless I could pretty much click around in the daw and get stuff done without watching 10 tutorials

My midi keyboard is supported and freezing tracks works smoothly.
The sound clip operations are really easy, extending a clip beyond its limits makes a loop, that you can cut and then manipulate the part you separated.
This change doesn't effect the other parts.
Something that makes the whole looping feature in Logic pretty much useless because you can't do that, and you can better use copy paste instead, otherwise you are stuck with your loop indefinitely.



Dragging a top corner of a clip fades in or out, a huge timesaver to get rid of clicks.
Some software like logic uses a ton of cursor tools: the select tool, the cut tool, the trim tool, the fade tool, the are-you-still-not-done-tool, hurry-up-tool, now-it-gets-annoying tool etc.
No not here in reaper!

Automation works okay, but it's not my favorite.
You have to select the automation lanes by checking checkboxes, but with some plugins like Fabfilter, there is so much you can automate, it fills the entire screen.

Exporting can be done in a ton of formats: WAVE, AIFF, MP3 and OGG Vorbis.
Side chaining is possible, but it is a bit complicated, you have to send it via numbered channels in stead of selecting a named track that you want the input from.

I'm also surprised by the amount of plugin standards they support.
Even ARA is supported, that allows real time audiofile manipulation, for pitch correcting software like Melodyne for example.
The categorization of plugins is a blessing if you have a ton of plugins.
You can search for plugins, and even search in categories for plugins.
And you can really easily stack instrument plugins, without using a instrument rack or whatever.


Reamote



There is one super feature that I have never seen before: Reamote.
And I'm surprised that not more DAW software makers did implement this feature.
With Reamote you can use the processor of another computer for CPU intensive tasks.
There are some caveats however, you need to have plugins on both systems installed.
It needs to be the same version of the plugin, so version 1.5 with version 1.5 and the same standard, so a VST with a VST and Audio Unit with Audio Unit.

Also you need a high speed network connection, WIFI has too much latency.
In theory this works, connecting works smoothly, but I ran into some trouble here in there.
For example: changing to non existing presets on the other machine in Serum caused some problems disconnecting, while the application said that it was connected.
But I could see by the amount of CPU usage that the local processor was used.
I like the idea, but this needs a little bit more work.

minor complaints
Although I'm pretty positive, I do have a few minor complaints.
The left and right scrolling is inverted.
That is somewhat annoying, because on every other application on the mac, it works the other way around.

The font size is really small and I couldn't find find how to enlarge it.
After a day of producing or late in the evening, this is gonna be an issue for me.
I don't like the multiple window approach, I would have liked to see a one screen layout.




conclusion
How well does this free daw stack up to the other free DAW competition?

Reaper is solid DAW, that is feature rich and definitely competes with the big professional daws.
Even for 60 bucks you can't complain.
And I see why people are so enthusiastic about Reaper.
I suggest everyone to buy the paid version, after all: it only 60 dollars.

If you are serious about music production and want to take it to the next level,
download my free music production e-book.
Besides information about music production basics and computers for music production, the book gives also a unique perspective on the world of DJs and music producers.
Share this article
If you took value from this article, please share it on social media.







Website url:

Author
Dexxter Clark
Music Producer / YouTuber
Read more about the author
Read also ...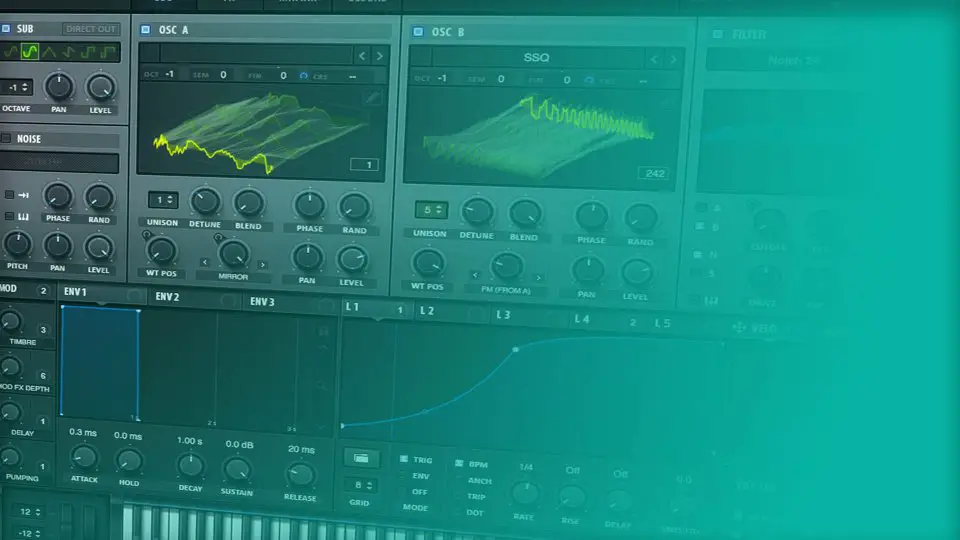 In this blog post I'll take a look at plugins for the beginning music producer. It can be overwhelming for a beginner music producer. Because there are a lot of plugins (and types of plugins) ...
Continue reading >>