👕 Webshop with courses and super fun music producer merch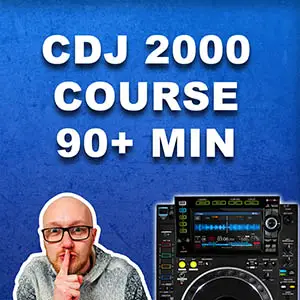 CDJ 2000 Nexus 2 course
Do you know all the anwers to the questions below?
What does the inner ring light on the platter mean?
How do you disable (or enable) the Continues Play function?
Why does the ring around the PLAY and CUE button flash in a certain way?
The red on-air ring around the platter doesn't light up. Do you know how to fix it?
Know your equipment is the best DJ advice I can give you.
If you don't know the answer(s), you are definitely need some training.
What if you need to know this on your next gig?
I'd like to help you with my 90+ minute CDJ 2000 NXS 2 video course.
I will tell you every there is to know about the machine, literally EVERYTHING.
Every button, every secret, every setting and every answer to the questions above.
Order the CDJ 2000 nexus 2 course >>
---
YouTube E-book
This book tells you everything about growing a successful YouTube channel, like:
How to make (more) money on YouTube?
How to get more views on YouTube?
How to get more subscribers on YouTube?
How often should you upload videos?
How do the algorithms work?
What is the ideal video length?
What is the formula for going viral?
How to make a business out of YouTube?
What equipment do you need?
More information: YouTube book >>
---
DJ Music Producer merch
I bring a wide variety of cool music producer themed (and non producer themed) merchandise to you!
Merch like t-thirts, hoodies, mugs, buttons, caps etc.
The printing, shipping, quality assurance of the merchandise is handled by a third party
In this YouTube video I'll try on the merch
Go to the merch webshop >>